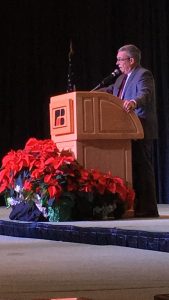 Missouri Farm Bureau president Blake Hurst referenced the theme of the group's annual meeting to call on members to defend the North American Free Trade Agreement.  During his address to attendees Monday at the Tan-Tar-A resort in Osage Beach, Hurst said Farm Bureau members needed to "agvocate" for the deal to preserve the gains seen since NAFTA went into effect two decades ago.
Attendees also viewed a clip of Hurst's interview with Canadian Broadcasting's flagship news program The National, where he and his father discussed the impact withdrawal could have on Missouri farmers.
Also during his address, Hurst listed successes achieved by the group in the past year, including the suspension of the EPA's Waters of the United States rule.
Missouri Farm Bureau president Blake Hurst also congratulated his members for their efforts to defeat the proposed Grain Belt Express transmission line through Northern Missouri and for reaching their membership quota for the 30th straight year.