2018 is not only starting off bitterly cold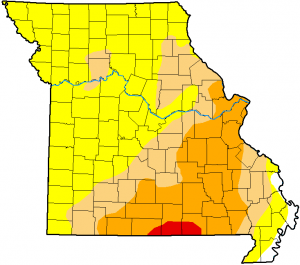 for Missouri, but also dry.  This week's USDA Drought Monitor indicates that 46 percent of the state is in some stage of drought, while all but pockets of six counties in Southeast Missouri are abnormally dry.  New to the moderate drought category is a large portion of Carroll County, along with parts of its neighbors.  The worst drought conditions remain along the Arkansas border in Howell, Oregon and Ozark counties.  The Golden Valley remains in abnormally dry condition.
The lack of moisture was also indicated in an update Wednesday published by the National Agricultural Statistics Service.  62 percent of Missouri's topsoil and 58 percent of the state's subsoil is short or very short on moisture, while just two percent of both are in surplus.  15 percent of farmers report a shortage of hay supplies, while four percent say they still have a surplus.  43 percent report a shortage of stock water supply.  NASS reports that 15 percent of Missouri wheat is in poor or very poor condition; however, just under half is in good or excellent condition.  Six weeks ago, 57 percent of the crop was considered good or excellent while eight percent was rated poor.
The U.S. Drought Monitor is jointly produced by the National Drought Mitigation Center at the University of Nebraska-Lincoln, the United States Department of Agriculture, and the National Oceanic and Atmospheric Administration. Map at right is courtesy of NDMC-UNL.