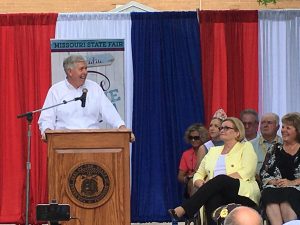 Flanked by state and local leaders, Missouri Governor Mike Parson officially opened the 116th Missouri State Fair Thursday afternoon.  The Polk County native was right at home as he prepared to eat lunch at the Beef House, surrounded by fellow cattle producers and supporters of the state's largest industry.  He tells Ag 1280 KDKD that he was excited to mark his first state fair as governor.
Parson adds that the fair wasn't the only major event he helped kicked off Thursday.  However, the cattleman said he was more at home in Sedalia rather than west Saint Louis County.
Missouri's senior senator Claire McCaskill, along with Sedalia's state legislators and mayor pro tem, were also on stage to mark the first day of the state fair.
Hear more from Missouri Governor Mike Parson: