Although Thursday is the first official day of the Missouri State Fair, a third of the lots for this year's Sale of Champions is already confirmed.  Competitions began earlier this week, with the live market poultry crowned Tuesday morning.  Nine-year-old Myles Massey of Jasper County earned grand champion honors for his pen of four broilers weighing an average of 7.2 pounds.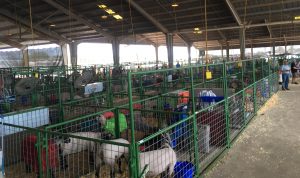 Massey is the son of Brian and Kate Massey and a member of the Spring River 4-H Club.  Alexandra Gast of Nevada FFA earned Reserve Grand Champion Honors.
Also awarded before the fair began was the Grand Champion Market Goat, which belongs to Grey Porter of Mercer.  Porter credited his following the latest trends in the goat meat industry to his 75-pound Boer Goat earning the top prize.
Tayten Dilly of Vernon County exhibited the Reserve Grand Champion Market Goat, which weighs 88 pounds.  Contests at the 116th Missouri State Fair begin Thursday throughout the fairgrounds in Sedalia, including the 4-H and FFA Market Sheep contest.  The Sale of Champions benefiting the Missouri State Fair Foundation and Youth in Agriculture scholarships takes place Saturday, August 18th in the Lowell Mohler Assembly Hall.