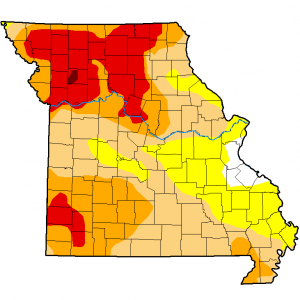 Drought conditions have finally arrived in much of the Golden Valley.  The weekly USDA Drought Monitor indicates that all but eastern Henry, along with the majority of Benton and Camden counties, are now in moderate drought.  Severe drought remains in northeastern Pettis County and has entered southern Hickory and Saint Clair counties.
Conditions statewide have worsened, with exceptional drought now appearing in one northern Missouri county.  The statistically worst possible drought condition now covers the western half of Caldwell County.  Close to 78-point-four percent of Missouri is in some stage of drought, with only Jefferson, Saint François, Sainte Genevieve and northern Perry counties spared from dryness this week.
Extreme drought conditions have appeared with a new patch in Southwest Missouri, anchored on Jasper County as well as central Barton, northwestern Barry and western Lawrence counties.  19-point-four percent of Missouri is in extreme drought, now including western Boone and two parts of Northern Cooper counties.  Fortunately, plentiful rains earlier this week have given eastern Carroll and Livingston counties a slight reprieve, as they were upgraded to severe drought.
Drought conditions across Southern Missouri expanded, with severe drought now covering areas that just fell into moderate drought last week.  In the Bootheel that includes southern Butler, much of Dunklin, and central Pemiscot counties.
The U.S. Drought Monitor is jointly produced by the National Drought Mitigation Center at the University of Nebraska-Lincoln, the United States Department of Agriculture, and the National Oceanic and Atmospheric Administration. Map is courtesy of NDMC-UNL.