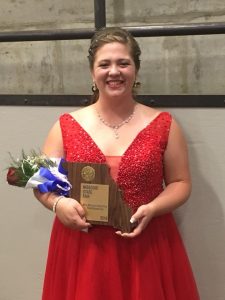 Kayla Taylor has won a $350 scholarship as third runner up at the Missouri State Fair Queen Pageant.  Taylor emerged from the field of 48 young women Thursday night in Sedalia to make it to the top ten, taking part in the on-stage portion of the contest.  She tells Ag 1280 KDKD she believed she impressed the judges with her interview.
The recent graduate of Leeton High School added that many of the young women she competed against this week have already become new friends.
Miss Henry County Kayla Taylor will attend the University of Central Missouri this fall.  Her third runner up honor comes on the ten-year anniversary of another Miss Henry County, Whitney Wallace, winning the pageant.
The State Fair Queen crown went to Samantha Nelson, Miss Howard County.  Nelson won the speech portion of the contest and will receive a $2,000 scholarship.  First runner up went to Sadie Davis of Scotland County, who won the interview contest.  Miss Cooper County Sarah Oerly picked up second runner up, and Ashley Voeller of Boone County won the talent portion of the contest en route to fourth runner up honors.
Hear more from Miss Henry County Kayla Taylor: