Henry County 4-Her of the Month: Sarah Lindsey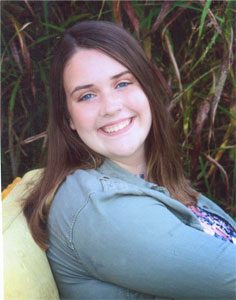 Sarah Lindsey is a member of the Clinton Cool Cats and is currently the Secretary for the club, where she keeps the meeting minutes.  4-H has been in her family for generations.  Her mom and sisters were all in 4-H.  4-H covers a wide variety of interest areas and has something for everyone.  4-H also helps to develop skills that are needed for personal growth.
Sarah has taken the projects Dogs, Cake Decorating, Country Cured Hams and Scrapbooking.  She really enjoys the country cured hams project and being a role model for the younger members.  She feels 4-H teaches you how to be responsible for yourself.
When asked, "How do you think you will use your 4-H skills as you grow up?" Sarah replied, "It has given me people skills, making it easier for me to talk in front of people. I feel you learn good life lessons through 4-H."