Henry County 4-Her of the Month: Taylor Crooks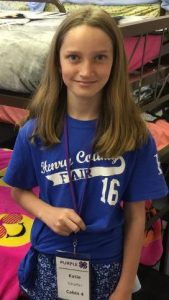 Katie Schaffer, daughter of Adam and Kim Schaffer, is 10 years old, and has been in 4-H for three years.  She is a member of the Clinton Cool Cats 4-H Club and holds the office of song and game leader. As song leader, she has to always be prepared with a song for the next meeting.
Katie attends fifth grade at Holy Rosary School.  She joined 4-H because her mom, her sisters, and both of her grandmas did it when they were younger and they told her stories about going on trips and meeting new people from around the world, which sounded like a lot of fun.
Katie would describe 4-H as an organization that allows you the opportunity to do things that you never dreamed of such as showing animals, doing speeches, doing demonstrations, going to fairs, going on trips, and even talking on the radio. 4-H really builds confidence and knowledge. 4-H also gives opportunities to make new friends.  She has taken poultry, cake decorating, arts and crafts, crocheting, foods, and international foods.  When asked her favorite project and why she said, "Poultry, because it makes a good learning experience, its lots of fun, and I get to show and sell the chickens."
The most important thing Katie has learned through 4-H is how to build her confidence, her leadership skills and accepting responsibility for her projects.  She feels 4-H camp was exciting because she enjoyed meeting new 4-Her`s from different clubs, knowing that we have a lot in common. It also gives her the opportunity to learn about other projects 4-H has to offers such as robotics.
Katie's future plans with 4-H are to become more involved with county-wide activities and continue to raise and show chickens.  She hopes to one day help lead projects.  She will use her leadership skills and learned responsibilities to help with future 4-H projects and outside activities in which she is involved.  She also feels people should join 4-H to build confidence and knowledge/skills in areas that they would not learn anywhere else.
Katie's 4-H Community Club Leader, Pam Jones, stated that Katie has been a member that has been very involved since she joined our club. She has held offices like song and game leader and been very responsible with her positions. She is a positive role model for the younger members as she always volunteers with her family to make herself and our club better.  She participates at both club and county level and works hard to accomplish her goals.  She loves to share her knowledge of projects with others so that everyone benefits.  She is a kindhearted young lady that has great character and does a nice job learning by doing in 4-H. I look forward to watching her and her 4-H career grow in the future.
Congratulations, Katie, keep up the great work!