Henry County 4-Her of the Month: Emma Swaters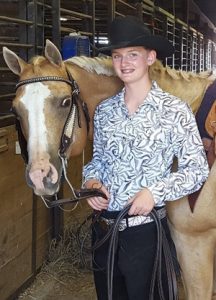 My name is Emma Swaters and I am a current member and president of the Mt. Zion Lions Club. I have been an active 4H member since I was a Clover Kid. Some of the projects I have taken over the years include; archery, dogs, horsemanship, sewing, swine, and foods. I joined 4-H because I thought it would be a good opportunity to become exposed to new things. I have gained many useful life skills such as leadership and how to better communication with others. I know that I will use these skills every day and I will continue to use them in the future.
4-H has exposed me to many fun and unique activities and trips. I have taken advantage of 4H camp, Food and Fitness Camp, Youth Leadership, and more. One very different thing I have done through 4-H is attend a Robotics workshop in Columbia. I really enjoyed this because it challenged me to think in a way that I wasn't used to. I am also looking forward to going on the Missouri 4H Equine Tour, in the near future.
I have learned many skills through the different projects I've taken. My favorite projects
have been the swine and horsemanship project. These projects have taught me responsibility  and how to properly care for animals. The swine project is one of my favorites because I love seeing my animals grow and learning as much as I can about them, in order to find the best way to raise quality livestock. I have also
really enjoyed the horsemanship project, because it taught me that you have to work hard for something you really want. I have been in the horsemanship project for many years and I have gained knowledge about showing, training, proper tack and riding. A
new and exciting project called Hippology is something that I tried for the first time last year.
Hippology is a project that teaches you all about horses such as; feeding, anatomy, forages, parasites, and medical care. My team went to state competition for the first time and we placed very well for our first year. I have always wanted to be a veterinarian and this project has shown
me how hard I will have to work, if I really want to do this in the future.
Another important part of 4H is taking what you've learned and helping others learn to succeed in that same project. My future plans in 4-H are to strengthen my club and get new people interested in joining. I am glad I have chosen to stay in 4-H because it exposes you to new things and teaches you skills you will use in your everyday life.