Henry County 4-Her of the Month: Abbie Dameron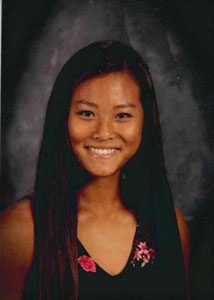 Abbie Dameron is a 16-year-old daughter of Eric and Peggy Dameron.  She is a member of the Shawnee Indians 4-H club.  She says she joined 4-H because it is something her whole family has been very involved in.  Abbie feels 4-H is an experience everyone should try at least once.  You get to learn how to do all sorts of things that you probably would not learn otherwise.  You can meet new people and become a great leader.
Some of Abbie's 4-H projects are Arts & Crafts, Beef, Cooking, Swine, Entrepreneurship and public speaking.  Beef is her favorite 4-H project because it has taught her so much such as being patient, working hard and having responsibilities.
The most important thing Abbie has learned through 4-H is how to be a good leader through being a club officer, camp counselor and being active through 4-H.  She has learned a lot on how to conduct a meeting as well as learning parliamentary procedure.  Being a camp counselor at 4-H camp is not just about watching after kids for a few days, but about teaching them new things and showing them what they can do through
4-H, as well as meeting new people.
Abbie's future plans with 4-H are to take on more leadership roles and to be more active through the program.  4-H has taught her how to perform in an interview and how to talk to people as well as becoming more confident herself and helping others become more confident in their selves.
When asked, "Why should people join 4-H?"  Abbie answered, "To get an experience of a lifetime and learn things you wouldn't learn anywhere else."  She added, "4-H is not just a program that teaches you how to cook, sew, etc., but it's a program that helps to prepare for the future at a young age and helps you grow and to make the best better."
Michelle Taylor, Shawnee Indians 4-H Co-Club leader, said, "It has been exciting to see Abbie grow through the 4-H program.  I have seen her face her fear of public speaking and now is comfortable stepping up and leading our club as Vice-President.  Abbie is one I can always count on to help out when needed, not only at the club level but also at county events.  Abbie has an incredibly bright future ahead of her!"