Henry County 4-H Member of the Month: Bailey Carter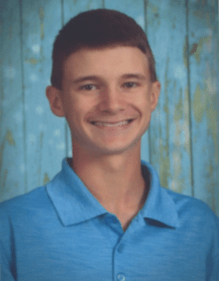 The 4-H'er of the month of June is 12-year-old Bailey Carter.  Bailey's mom and dad, Kim and Wes, were in 4-H and wanted him to join.  It is a great learning experience that you don't want to miss.  The projects Bailey has taken in 4-H are woodworking, photography, beef, camping/hiking, archery and shotgun.  His favorite project was woodworking.  It is neat to see something you built being used in your house.
The most important thing Bailey has learned from 4-H is friendship.  As the club treasurer, he learned how to balance the checkbook and pay the bills.  He liked to help make financial decisions.  Bailey thinks his favorite 4-H thing is meeting new people on 4-H trips.
Bailey's future plans with 4-H are to become a leader in woodworking and help in meetings.  He thinks he might become a carpenter and build furniture in his future.  4-H teaches people important qualities that they will need later in life.  He feels every 4-H'er should try to go on as many trips as you can since it is a once in a lifetime experience.
The 4-H Community Club Leader, Janna Wareham, says, "Bailey has grown to be a great leader within our club.  He has held the officer positions of secretary and treasurer.  Currently, he serves as a mentor to younger and new members, helping them follow the meetings and learn parliamentary procedure.  He now holds the office of treasurer for the Henry County 4-H Council.  Bailey always steps up to help while doing service and fundraising projects, jumping right in without having to be asked.  He puts full effort into all of his projects and is a wonderful example and role model for younger members."