Henry County 4-Her of the Month: Allison Tenholder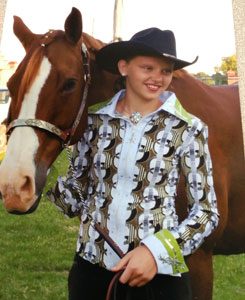 I joined 4-H because it would help me learn life skills and that I could make new friends along the way.  I would describe 4-H as a great way to get involved in your community and to learn about topics ranging from Archery to Cake Decorating.  I have taken scrapbooking and sewing in the past, but I am currently taking Hippology and Horsemanship.
My favorite 4-H project has been Hippology because I get to learn everything about horses and we go and compete against other teams. Our team went to the state contest last year and had fun taking third place.  The most important thing I have learned through 4-H is how to be a good leader and all the important qualities a leader must have.
I am currently holding the office of Vice-President, which is a great learning experience for me.  I have also gained more leadership skills.  I will use the leadership skills I have gained to help further my communication with future job interviews.  I always enjoy hearing our club members talk about their recent projects and what they have learned.  My future plans with 4-H is to keep doing Hippology and Horsemanship to learn as much as I can. People should join 4-H because it is a good way to learn new things, to make new friends and become involved in your community.
The Mt Zion Lions 4-H Club Leader says Allison, as an older member, leads the younger members through example by participating in club meetings, working with them during club activities, and holding office of Vice-President this year.  She is also very active in the Hippology project.