Henry County 4-Her of the Month: Drew Bailey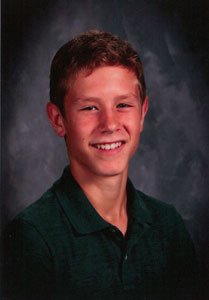 Drew Bailey is the December 4-H'er of the Month.  He joined 4-H because of all the fun projects he could do.  Drew would describe 4-H as something that is fun but challenging.  He has taken archery, .22 rifle, junk drawer robotics, hiking, camping, aerospace, swine, beef, leadership, leatherwork, and woodworking.  His favorite project has been camping because it is fun to make a fire, cook your food and sleep outside.  The most important thing Drew has learned is perseverance.  As secretary of the Montrose Busy Beavers, Drew has learned to have good organization skills and responsibilities.  His job was to be at every meeting to take notes and keep records for the 4-H club.  Then he would type up the meeting minutes and submit them to the Extension Office.
The most exciting thing he has done through 4-H is when he went hiking with a group at the Bothwell Lodge.  They were even able to tour the mansion.  He also enjoyed going to Teen Conference and 4-H Camp.  He enjoyed the opportunity to make new friends at both.
Drew's future plans with 4-H is to continue it through High School and to keep improving his leadership skills and to learn as much from it as he can and to keep serving as officers in his club.  As Drew grows up he thinks he will use his 4-H learned skills with any future job.  He will also use them to gain and improve friendships.  4-H skills have helped him with presenting and demonstrating in front of an audience.  Drew feels youth should join 4-H because it teaches good life skills that one could use the rest of their life.
Janna Wareham, the Montrose Busy Beavers 4-H Club Co-Leader, wrote that "Drew's fellow 4-H members nominated him as their outstanding member because he has always been enthusiastic about 4-H.  He has participated in many projects and also takes advantage of the many opportunities available in 4-H such as summer camp and 4-H Teen Conference.
Drew is a great role model to younger members.  He served as a mentor to younger and new members at last years meetings.  Drew has taken on the role of Vice President of the club this year.  His leadership has been a wonderful example for his younger brother and sister who are following his footsteps in their enthusiasm for 4-H."